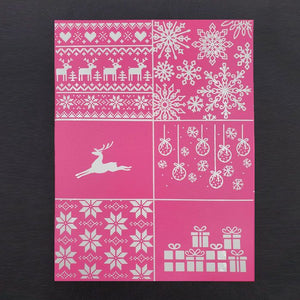 These self-adhesive Stencils will change the way you stencil cookies forever!  Seriously, people...they stick to dry Royal Icing to hold the stencil flat and even against the cookie.  Ripples and air bubbles in the royal icing are of no consequence with these ultra-flexible sticky little suckers!  Stencil with Royal Icing, Airbrush, even Buttercream!  
Oh, did we mention that they stick to Macaron shells too?  Or use them on crusted buttercream, fondant, or icing sheets.  They don't stick as firmly to buttercream or fondant, but you can secure them the way you would any other stencil to these mediums.
Washable and reusable.  Gently rinse with cool water and air dry with the sticky side up!!  Drying can be sped up using a box fan, or a hair dryer on cool setting.  Do not dry the sticky side of the stencil with cloth or paper towels, as it will pull lint off of the towel and make the stencil not sticky!  If this happens, just rinse the stencil again, and the sticky will return.  
Some curling of the stencils after washing is normal.  Simply stick the stencils (once dry) onto the backer card on which they came for storage.  Fraying on the edges of the stencils once they are cut apart is normal wear and tear. With proper care and storage, these stencils can be reused many times.
Set of 6 self-adhesive, reusable cookie stencils for winter
Use with Royal Icing or Airbrush