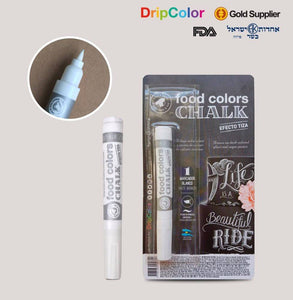 White chalk effect food 
The first 100% edible white ink marker To write, paint and decorate on dark surfaces simulating the CHALK EFFECT ON SLATE!
Please read these tips to keep your marker working properly:
1) Shake the marker before using it in order to let the ink flow to the tip properly,
2) Clean the tip of the marker after each use with a wet paper towel to remove sugar/grease that may dry the tip (this is critical),
3) Store the pen with the pen pointing down (this is very useful to let the ink remain at the tip while storing it).
Standard Shipping via Canada Post does not have tracking (this includes SMALL PACKET USA AIR).  We are not responsible for lost items - if there is no tracking, we cannot locate the whereabouts of your parcel.
Edible white chalk marker
I have purchased some on Amazon and was not happy with them, But i really love this one that i purchased from you Mary it is awesome. very smooth and clear really really love it. thank you