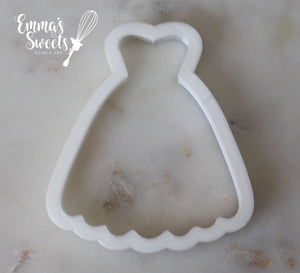 SIZING: All sizes are approximate as shapes will vary, and the size options displayed are showing the longest length of the cookie cutter. Please note: length includes narrow portions of the cutter so you may need to go up a size. Measurements are taken from the widest/longest 2 points on the cutter. If you have a question, please let us know!
 *Colour of cookie cutter may be different than photo*
All cutters are made to order - we do not have them readily available in stock.  Please allow 3-5 business days to process. 
**Please Note** These cutters are HAND WASH ONLY with warm water! NOT dishwasher safe, avoid exposure to hot water/heat, as this can cause the cutters to warp.
Elegant cutter
I purchased this cutter to add to a bridal engagement set I was making. It cuts beautiful smooth edges for the bottom of the dress. I was very happy how the final product looked.
Wedding Dress Cutter
The cutter worked beautifully and I made gorgeous cookies for my daughter's bridesmaid boxes. The only small issue I encountered was that my cutter was not in the bin when I went to pick up.